BBQ Chicken Calzones

,
BBQ Chicken Calzones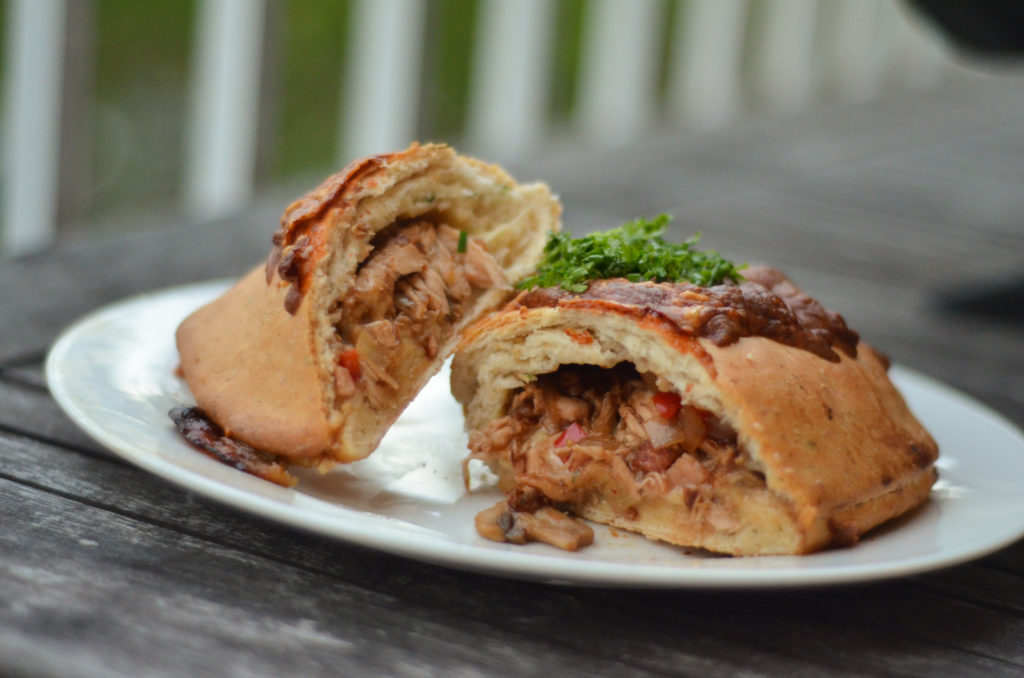 By Ashlyn Saucier Published:
Yield:

2 large / 4 small calzones (4 Servings)

Prep:
Cook:
Ready In:
We make our own dough for this recipe (See Pizza Dough) but you can use refrigerated dough just as well for a quick fix.
Ingredients
Instructions
If making homemade pizza dough, do this first.

Preheat the oven to 200C (400F). Line a baking tray with baking paper.

Fry bacon in a large skillet over medium-high heat until crisp. Remove from the pan to drain on paper towels; crumble.

Add the onion and shredded chicken to the hot bacon grease in the pan. Fry over medium heat until onion is tender. Add mushrooms and capsicum for 2 minutes.

Stir in 1/3 cup of barbeque sauce, and remove from the heat. Mix in the cooked bacon.

Roll the pizza crust dough out onto lined tray. Press out to an even thickness, and then cut in half. Divide the chicken mixture between the two pieces of dough, spreading on only half of each piece to within 1/2 inch of the edge. Drizzle the remaining sauce over the filling. Sprinkle the cheese over the top. Fold the uncovered portion of dough over the filling, and press the edges together with a fork to seal.

Sprinkle top with extra cheese. Bake for 25 minutes or until browned to your liking. Cool for a few minutes, then cut each calzone in half (if sharing 2 large calzones). Add additional BBQ sauce if you like.