Chicken pot pie

,
Personal chicken pot pies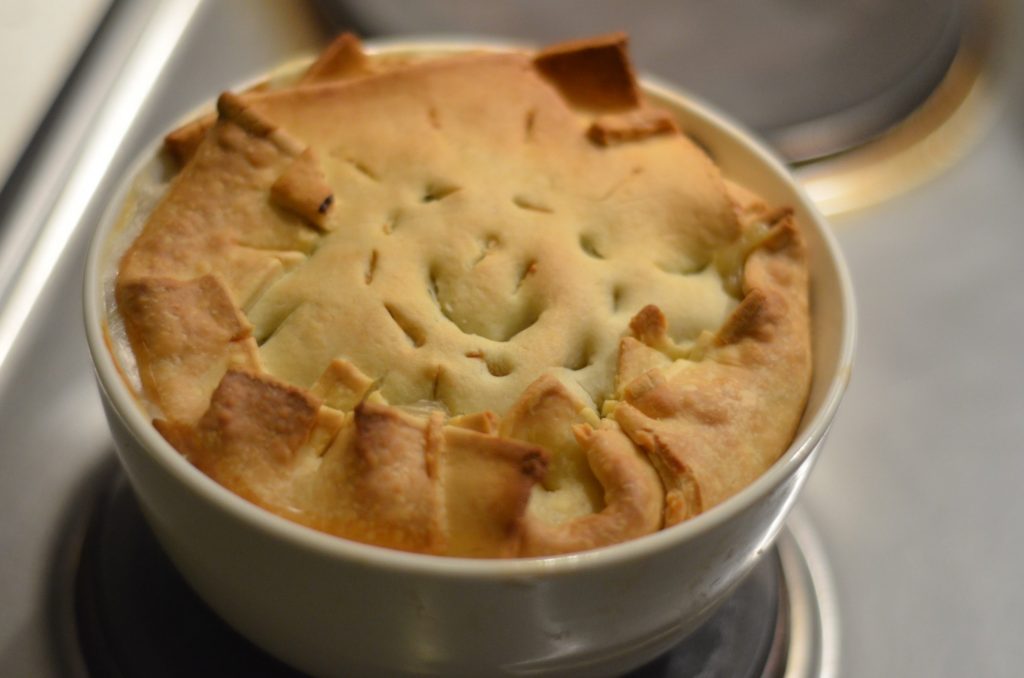 By Ashlyn Saucier Published:
Yield:

2 large individual pies / 1 9-inch pies

Prep:
Cook:
Ready In:
We take these on picnics with us to watch the sun set over Sydney Harbour. It's the perfect picnic meal.
Ingredients
Instructions
Preheat oven to 425 degrees F (220 degrees C). Boil 1/2 a medium pot of water.

To the boiling water, add chicken, carrots and celery. Boil for 2 minutes - or until chicken is cooked through. Remove from heat and drain. Add peas and set aside.

In a saucepan over medium heat, cook onions in oil and butter until soft and translucent. Stir in flour, salt, pepper and celery salt. Gradually add and stir in chicken broth and milk. Simmer over medium-low heat until thick. Remove from heat and set aside.

Line 2x3-cup capacity ovenproof bowls each with a sheet of pastry (or premade crust). Distribute the chicken mixture evenly between the bowls. Pour hot liquid mixture over. Cover each with 1/2 sheet of pastry, seal edges. Make several small slits in the top to allow steam to escape.

Bake in the preheated oven for 30 to 35 minutes, or until pastry is golden brown and filling is bubbly. Cool for 10 minutes before serving.