Salted Dark Chocolate Espresso Cookies

,
Salted Dark Chocolate Espresso Cookies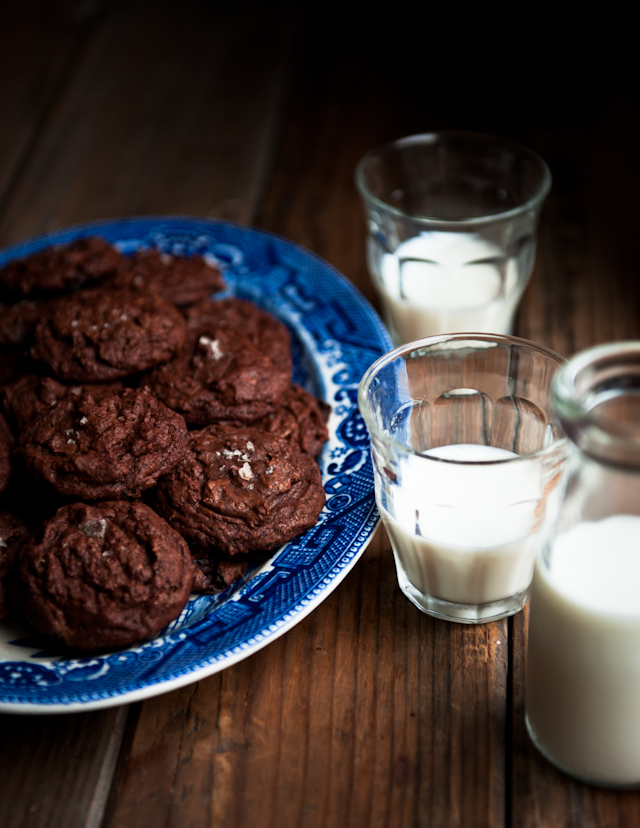 By Christy Collins Published:
Ingredients
Instructions
Finely chop 170 g (6 oz) chocolate and set in a double boiler over simmering water with the coconut oil. Stirring constantly, melt. Once melted, remove from heat, set aside, and let cool to room temperature.

Chop the remaining 114 g (4 oz) chocolate into large chunks, about the size of big chocolate chips. Set aside.

In a bowl, whisk to combine the flour, baking powder, and salt. Set aside.

In a mixer bowl with the paddle attachment, combine the eggs, sugar, espresso powder, and vanilla extract. Beat on medium high for about 5 minutes, until pale and fluffy and the batter drops off the beaters in a thick ribbon. Fold in the flour mixture, followed by the cooled melted chocolate mixture. Fold in the chocolate chunks. Cover and chill until firm, about 1 hour. (Or chill in the freezer for about 30 minutes.)

Preheat oven to 350° F. On lined or greased cookie sheets, drop 1 to 1½-inch balls of dough, leaving about 2 inches between each ball. Sprinkle the dough balls with salt flakes.

Bake the sheets one at a time for 8 to 10 minutes, rotating once half-way through baking. The centers should still be soft when you remove the pans from the oven. Let the cookies cool briefly before enjoying hot, or store in air tight containers for about two days. Serve with a shot of milk.