Warm Roast Vegetable and Chicken Couscous Salad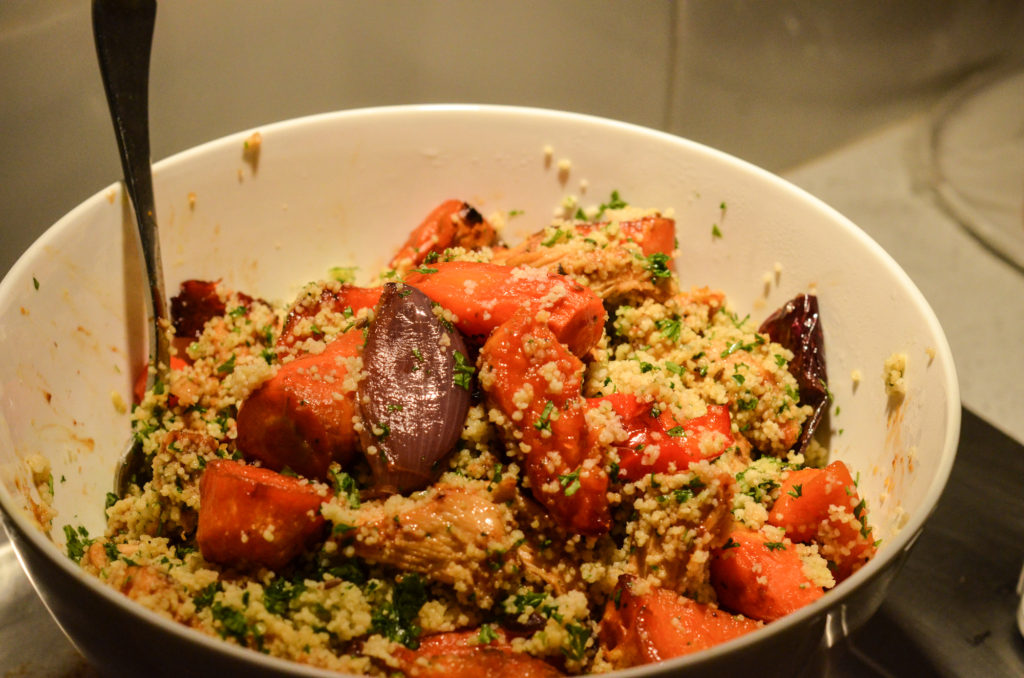 By Ashlyn Saucier Published:
Yield:

1 large salad (4 Servings)

Prep:
Cook:
Ready In:
Delicious on a lovely spring day. Enjoy on it's own or as a side salad.
Ingredients
Instructions
Preheat oven to 200C (400F). Line a baking tray with baking paper.

Spread carrots, kumera, capsicum and red onion (with layers intact) as a single layer on the tray. Sprinkle with salt and drizzle honey and 3/4 of the olive oil over top. Toss to coat. Bake for 30min or until tender.

Meanwhile, toss couscous in a heatproof bowl with butter, spices, sultanas and salt. Stir in 400ml boiling water until combine. Cover with plastic wrap and stand for 5 minutes, then fluff with a fork.

Heat remaining oil on a non-stick frying pan over medium-high heat. When oil is hot, add chicken and season with poultry seasoning, salt and pepper. Cook for 4min each side until brown and cooked through. Set aside.

Add lemon juice, parsley, coriander, baked vegetables and chicken to couscous bowl. Stir through to mix and serve.