Amazing Whisky Grilled Baby Back Ribs

,
Amazing Whisky Grilled Baby Back Ribs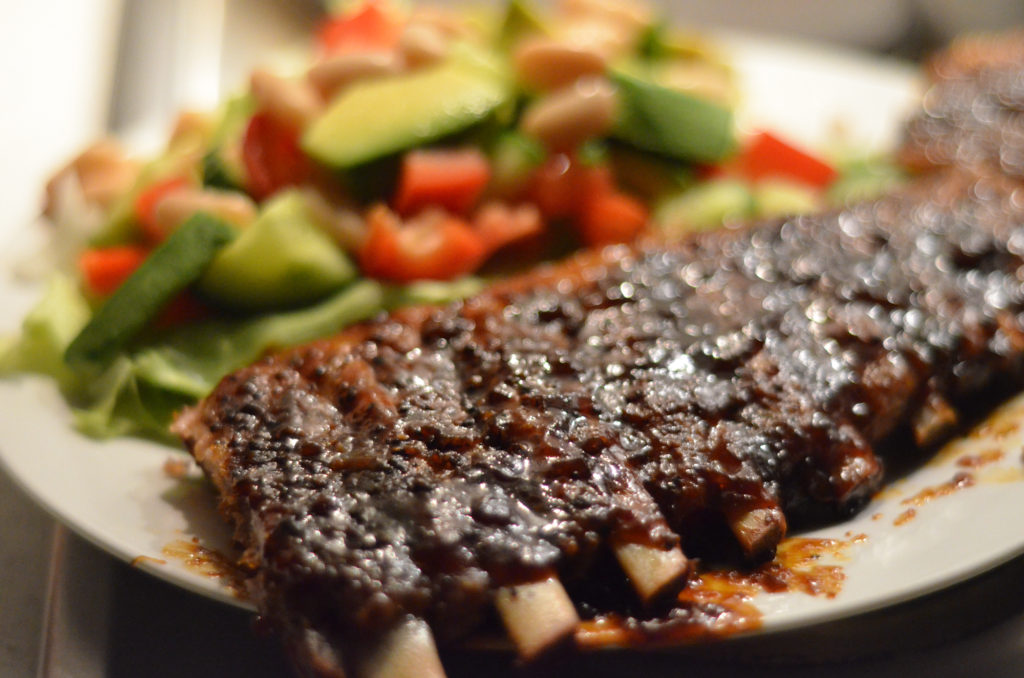 By Ashlyn Saucier Published:
Yield:

4 half racks (4 Servings)

Prep:
Cook:
Ready In:
Since Lelan was a little boy, his favourite birthday meal has always been a juicy rack of ribs. After making it for his 22nd birthday, Lelan couldn't help but rub his tummy and smile with glee. Thanks Mom for this recipe!
Ingredients
Instructions
Preheat oven to 300F (150C).

Cut each full rack of ribs in half (to make 4 half-racks). Sprinkle salt and black pepper (more pepper than salt), and 1 tbsp red chilli powder over meat. Wrap each half rack in aluminium foil. Bake for 2.5 hours.

Meanwhile, heat oil in a medium saucepan over medium heat. Cook and stir onions in oil for 5 minutes, until soft.

Add water, tomato paste, vinegar, brown sugar, honey and Worcestershire sauce. Season with 2 tsp salt, 0.25 tsp black pepper, liquid smoke, whiskey, garlic powder, paprika, onion powder, dark molasses and 0.5 tbsp red chilli powder.

Bring mixture to a boil, then reduce heat. Simmer for 1.25 hours, uncovered, or until sauce thickens. Remove from heat and set sauce aside.

When ribs are ready, remove ribs from oven and let stand for 10min. Meanwhile, preheat an outdoor BBQ/grill for high heat.

Remove racks from foil and place on the BBQ/grill. BBQ the ribs for 3-4min on each side. Brush sauce on the ribs while they are grilling but just before you serve them (adding it too early will burn them).